What is the purpose of GrooveFunnels?
Are you interested in learning more about the all-in-one digital marketing platform that is revolutionizing how thousands of businesses create sales funnels and grow their online businesses? You can easily manage your entire business online with GrooveFunnels (recently renamed Groove.CM), thanks to a suite of apps that requires no coding development expertise.
You do not need to provide a credit card either. (Sign up for your free GrooveFunnels account here!)
Digital marketing constantly evolves, and so do the tools. But perhaps you are still unsure about the effectiveness of digital marketing in the first place. In terms of digital marketing expenditures, the latest statistics indicate that online marketing will represent about 50% of global advertising expenditures by the end of 2021 and will exceed TV advertising expenditures by that time. If you have an online business you are a Digital Marketer.
Ignoring Internet marketing in 2021 is equivalent to opening a business but not telling anyone about it.
For those who are not technically savvy, the bad news is that there will undoubtedly be a learning curve. That is true of any new platform, especially for those just getting started. But there is good news – Groove offers live Q&A sessions every week, a comprehensive library of training materials in Groove Digital Academy, and a searchable database.
However, if you are a seasoned marketer, it is likely that you are ready to put an end to all the clunky integrations and patchwork solutions that are currently holding your business together by a thread. If this is the case, there is really no bad news. You can streamline your processes and save some serious money by implementing apps such as GroovePages, GrooveKart, GrooveMail, GrooveSell, GrooveAffiliate, GrooveVideo, as well as many more to come.
There is much more to these products than just a page and funnel builder (this is why the domain and name of the company has changed – to reflect the full range of the product suite; keep an eye out for our new funnel mapping product, GrooveFunnels).
Almost anyone with a product to sell can utilize this platform, which typically includes small businesses, content marketers, course creators, coaches, consultants, influencers, speakers, authors, and software developers. GrooveFunnels is an online marketer's dream.
What is GrooveFunnels?
The Groove.CM software package provides easy-to-use tools for digital marketing and customer relationship management (CRM). The service was created by the best digital marketers in the industry to offer a better way to build high-converting funnels and sell products online.
With other funnel builders and marketing tools such as ClickFunnels, Kartra, Kajabi, and Leadpages, you probably know the frustration and cost involved in subscribing to multiple software solutions to generate income online.
That is why Groove is at the forefront of creating an all-in-one solution that goes far beyond a simple funnel creator and autoresponder. It should be noted that the "funnel" aspect refers to the multi-step sales process that prospects travel through prior to becoming a paying customer.
It is intended to serve those who wish to integrate all of their digital marketing initiatives into one seamless ecosystem. It is a sales funnel tool at its core but is a huge collection of different marketing apps in its all-in-one platform.
Groove allows you to develop:
Websites, landing pages, and funnels

E-Commerce stores

Shopping cart management and affiliate management

Members-only websites

MLM affiliate membership program

Blogs and Vlogs

Marketing optimization for videos

Automated email marketing
Websites, landing pages, and funnels
GroovePages is a landing page and sales funnel builder platform. (Alternative: ClickFunnels, $1,164+ per year)
A landing page is a standalone web page designed specifically for a marketing or advertising campaign in order to convert visitors into leads. Creating a high-conversion landing page is the goal, but crafting an effective one is not the same as designing a successful website.
The process is not difficult, but it does require some iteration. An intuitive drag-and-drop editor in GroovePages makes it easy for even novice users to create a page or series of pages.
You can modify any page in your sales funnel easily and utilize tried-and-true components such as countdown timers, progress bars, pop ups, etc. to create a sense of urgency and momentum for your website's visitors.
The software's interface and features are designed to make it easy for a business to start and grow immediately, without any technical knowledge required. There is a wide range of professionally designed templates to choose from.
The builder allows you to create both separate desktop, tablet and a mobile version of your pages. They also provide a number of website and funnel templates for you to work off of or you can build from scratch.
How to use a landing page in a funnel:
Sign up your subscribers to your newsletter.

Promote your business via Facebook or other social media ads.

Promote a new product launch.

Promote products and services

Register attendees for a webinar.

Offer a coupon code.

Obtain email addresses for a lead magnet.

Creating thank-you pages
Get GrooveFunnels For Free!
Limited Time Offer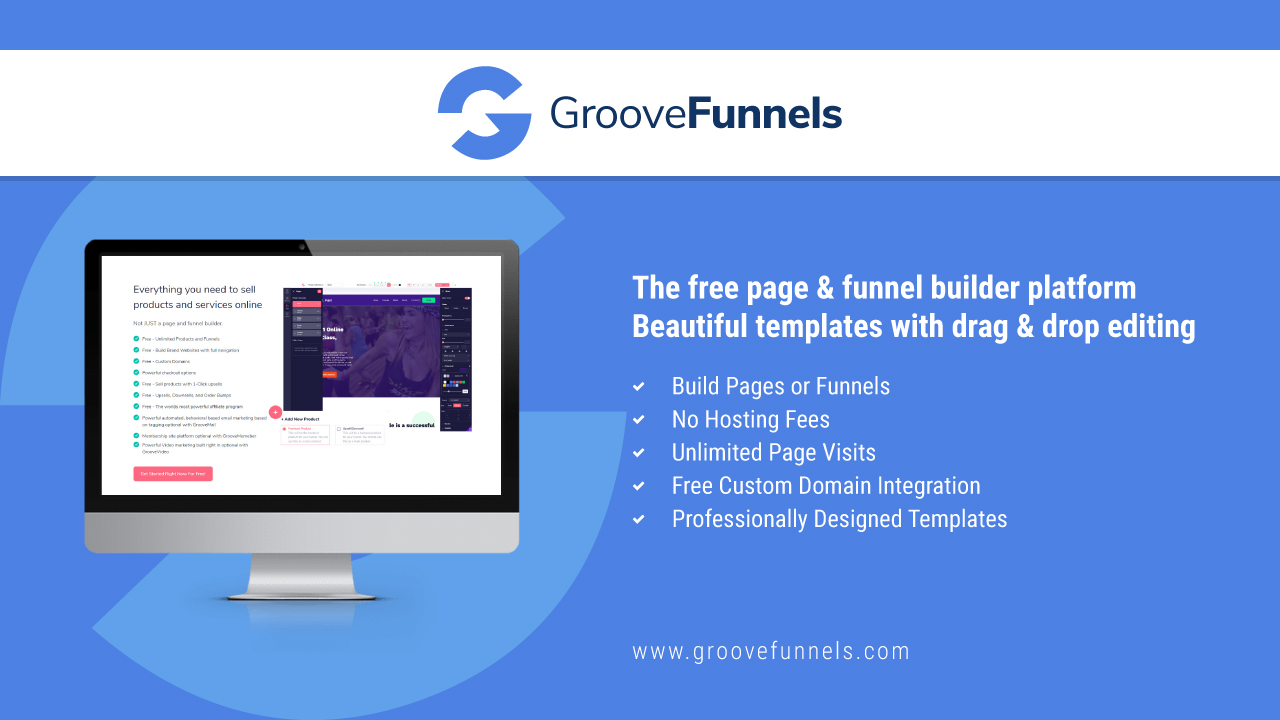 E-Commerce stores
GrooveKart is an online shopping platform. (Alternative: Shopify, $948 per year) GrooveKart is designed to sell physical products while Groovesell can sell physical products or digital products using your choice of payment providers.
E-commerce is a trillion-dollar industry that has become a popular business model for online entrepreneurs seeking passive income streams. You can create a multitude of different e-commerce opportunities, and there are a variety of different types of e-commerce. You can sell products to consumers using a GrooveKart store regardless of whether you want a built-for-you store or want to start a dropshipping business.
A powerful feature is that it provides a robust and powerful platform with FTC Guardian compliance that helps you build trust with your customers. Some of its features include analytics, reporting, one-page checkout, one-click upsell, multi-currency support, social media integration, and a built-in support desk.
A GrooveKart online store is designed to work on mobile devices as well as desktop computers. They allow store owners to use both upsells and downsells as well as order bumps to boost the average cart value during checkout.
Print-on-demand and dropshipping capabilities are integrated into the platform, as well as over 300 premade designs, making it one of the most user-friendly platforms available.
If you would like a beautiful GrooveKart store built for you visit https://ecombusiness.builders. Ecom Business Builders will build you a beautiful GrooveKart store with your own branded merchandise so that you can begin making money online really fast without having to do any of the website design work yourself.
Shopify charges a monthly payment but with GrooveKart you do not have any monthly payments. If you plan on being in business for any length in time these savings can be substantial.
An e-commerce store can be utilized in several ways:
Branded products, apparel, etc.

The Dropshipping model.

The Print-on-Demand method

A single-item store

An online retailer

Wholesale sales

White labeling of products

On-site manufacturing
Shopping cart management and affiliate management
GrooveSell is a sales and affiliate management tool. (Alternative: SamCart, $588+ per year)
GrooveFunnels robust shopping cart software optimizes checkout pages to increase conversion rates and links to a payment processor to process transactions. It is a web-based checkout system that consists of proven templates with 1-click upsells and other features designed to maximize the average cart value.
GrooveSell allows you to offer any type of pricing structure (free trials, one-time payments, recurring payments, installments, recurring installments, etc.) and to create affiliate programs as well.
A streamlined dashboard provides an overview of total sales metrics over a period of time with no transaction fees. It allows you to easily switch between marketing products and services either as a vendor or an affiliate marketer.
You can use a shopping cart platform in the following ways:
You can access back-end analytics.

Digital products can be upsold.

Enter the price and method of payment for the product you are selling.

Integrate with multiple payment gateways

Integrate widgets

Include Butterfly Marketing strategy

Connect your sales page and thank-you pages.

Set up a product fulfillment system.

Multiple payment options of your choice

Create an affiliate program

Display social proof to increase conversions.
Membership Platform Websites
GrooveMember is a membership management and content management platform. (Alternative: Kajabi, $4,788 per year)
A membership portal site is a website that offers members content that is protected behind a login page and usually requires individuals to pay a membership fee. A membership area is associated with a more loyal client base, as well as higher conversion rates and increased revenues, so it is gaining popularity among funnel builders.
GrooveMember is designed for digital content creators who wish to build a community and make exclusive content available in a members-only area. The tool allows you to build membership sites with multiple payment plans and tiers be it an annual or a monthly plan.
You can easily manage every aspect of affiliate marketing using GrooveAffiliate if you wish to recruit affiliates to promote your online course or membership product.
In the absence of software, managing memberships, collecting payments, selling related products, and managing events manually would be too time-consuming. GrooveMember allows you to automate and drip content using an easy-to-use page builder that permits you to not only publish posts but also host videos.
Uses of a membership area:
Training and tutorials

Incorporating Templates

A virtual event

Webinar recordings

Modules offered online

Private forums for members

Publish evergreen content

Audio podcasting
Blogging
The GrooveBlog blogging platform is used for blogging and content management. (Alternative: WordPress, $396 per year)
Blogging is the best method for content marketing and organic reach. The benefits of blogging are innumerable, and one of the most important reasons is SEO. The term SEO is defined as all the steps you must take in order to inform Google what your post or page is about, and what search terms it should appear under on the Search Engine Results Pages.
(Read this post to learn more about on-page SEO and off-page SEO.)
GrooveBlog incorporates some of the features of GroovePages and is an easy-to-use blogging system that allows you to publish content online. Groove understands the need for high-quality content that ranks and reaches your target audience.
You can now simplify the process of blogging with a platform that eliminates the need to purchase themes and plugins.
How to use a blog:
Learn more about a hobby or a passion.

Information sharing

Record your life experiences. (Think about a travel blog like https://europeantravel.blog)

Advertising within the page

Promotion of affiliate programs

Establish expertise in the industry.

Establish yourself as a thought leader.

Generating leads
Optimizing video marketing
GrooveVideo is an online video hosting and sharing platform. (Alternative: Vimeo, $144+ per year)
Video content is anticipated to account for the majority of all internet traffic in 2021. Video content puts a heavy strain on website servers, which is why you need a video hosting platform in order to share and promote high-quality videos online.
GrooveVideo allows you to optimize videos and use them as effective lead generation tools. Using video and advanced analytics, you can reach your target audience with a visual appeal, and gain insight into their behavior.
Along with hosting your videos and embedding them on your website, you can also choose your own player skins, controls, and autoplay.
How to use a video platform:
Engage visitors without requiring them to leave your page.

Split testing of content ideas

You may want to include call-to-action buttons in the videos.

Video analytics for market insights

Configure triggers based on visitor behavior
Automated email marketing
In addition, GrooveMail is an email autoresponder and customer relationship management system. (Alternative: ActiveCampaign, $588+ per year)
Autoresponders are designed to automatically send an email or a series of emails in response to certain trigger-based events, which means emails are sent to customers based on their actions. In order to obtain new prospects, email marketing and list building are essential touchpoints, and analytics will provide valuable information regarding the performance of your campaigns and conversions.
The GrooveMail email marketing platform solution seamlessly integrates your email campaign with other Groove apps, such as GroovePages and GrooveKart, to streamline email campaigns and newsletters and save time. You will be able to tag subscribers, automate campaigns, perform text and voice broadcasting, and take advantage of other standard email service provider features.
The GrooveMail Email platform allows you to manage your email marketing campaign and email list in their dashboard.
At the time of this post, GrooveMail is in the process of being rolled out for a second time after they had problems with users using it to send out spam emails in the first release. Paid members will get access first before free members. Groove Funnels being in its Beta version still allows them to do this.
How to use an email autoresponder:
Provide digital products.

Email newsletters

An introduction to product onboarding

An acknowledgment of registration

Renewal and cancellation notifications

Webinar email communication

Engagement of dormant leads

Rewards and discounts for loyal customers
GrooveFunnels Affiliate Marketing Program
GrooveFunnels has a powerful affiliate program. There are people making six-figure incomes in affiliate commissions just promoting Groove, and why not? Not only is Groove a great digital product on its own to use they will even pay free members 20% to promote Groove's paid programs. Lifetime Platinum members receive an outstanding 40% commission using their affiliate link.
Receiving an affiliate commission is great but upgrading to the platinum plan and that extra 20% commission pays for the entire GrooveFunnels Platinum program with just 3 sales. The lifetime deal makes this a no-brainer. Making an affiliate sale for selling a great product is so much more rewarding than selling some random Clickbank products that really offer little real value.
Even with the basic plan which is totally free, it allows those with little to no money who are looking for an affiliate program to promote an easy way to get started making money online.
Groove has a dedicated affiliate area that provides you with all the links, banners, and a lot of content that you can work off of.
How to make money with Groove Affiliate Marketing Program:
Sharing your affiliate link on social media

Advertising

Creating blog content (such as this page)

Using Groove's Funnel Building software

e-mail Marketing

Using Groove Solo Ads

YouTube Video Reviews
Lifetime Deal
The GrooveFunnels suite of products, bundled in a single package under one roof, consists of the most essential tools and apps required in order to scale and grow any online business. In addition to having access to world-class software, you will also be able to gain new skills by following the free training offered by the Groove Digital Academy and Groove YouTube channel.
Now it does not take weeks to create an effective sales funnel that converts. With Groove, you can launch as quickly as possible.
Sell unlimited products and create unlimited funnels.

Creating integrated email sequences

Build pages using an easy-to-learn drag-and-drop editor.

Create a robust checkout process.

Optimize video content

Provide upsells, downsells, and order bumps.

Create content for organic search

Earn commissions with Groove's Joint Venture Program

Earn commissions promoting Groove.cm.

Create your own affiliate program.

Plus much more!
For our previous Complete GrooveFunnels Review click here.
Summary
GrooveFunnels is our favorite digital product for anyone with or looking to start an online business. Right now you can get free lifetime access. This could be for a limited time as when they come out of Beta I do not know if they will still be offering this. The one-time payment lifetime deal is a great investment for a business owner and will also include any future products that Groove.cm releases. Groove will release an agency feature in the future as one example.
If you have read this blog so far you probably are looking for an affordable solution for either starting an online business or to make your existing business operate at a higher level.
The level of access you get to Groove's Apps is different with the free basic version or what I like to call GrooveLite as opposed to the Platinum Lifetime version which allows you to take your high-converting sales funnels to an entirely different level.
The core features of the basic platform are more than enough for people starting out but the Platinum Lifetime deal with their advanced features it is easily the best software product that has totally disrupted the way digital marketing businesses will make online sales going forward.
Just as Tesla started out disrupting the auto industry not as a car manufacturer but by becoming a technology-focused company, Groove.cm is doing the same thing being an all-in-one marketing platform that totally eliminates the need to pay for multiple platforms. Being the all-in-one marketing tool that I like to think of like it is Shopify, ClickFunnels, Aweber, Vimeo, WordPress, Wix, Kajabi all being rolled up into one digital marketing tool.
Trying to find one online tool that can do all that Groove does for its low price doesn't exist.


Another cool feature of Groove is that they are not just focusing on the English-speaking market. They already have a GrooveBrazil option and just released GrooveAsia. In the future, I wouldn't be surprised to have them offer their online marketing platform in Spanish and other languages as well.

Frequently Asked Questions
Why should I Upgrade to GrooveFunnels Lifetime Platinum ("Founder Package")
Many people claim that upgrading to GrooveFunnels Platinum at this point is a gamble, but I do not see it that way. It is an impressive digital marketing platform with plenty of potential for expansion. Listed below are some of the reasons why I consider the purchase a wise investment:
The GroovePages platform works better than some "finished" page builders on the market. It creates fast-loading pages that are fully mobile responsive, and Google and other search engines find it easy to navigate. It is easy to use and intuitive. I have built several landing pages and websites using it.
You can sell products and manage affiliates under your own banner using GrooveSell and GrooveAffiliate, which are fully integrated.
GrooveKart is a powerful eCommerce platform that puts Shopify to shame. Free members can have 3 eCom stores while Lifetime Platinum members can have unlimited stores or websites.
My favorite thing about GrooveFunnels is the overall brand message, and the fact that they provide free lifetime accounts. This has made it simple to write an accurate review without the need to "sell" the product because people can try it risk-free for an unlimited period of time.
In addition to his extensive experience as a programmer and marketer, the CEO Mike Filsaime is the kind of individual who is ideal for leading a project like this.
The apps that Groove is currently developing will likely "change the game" when it comes to internet marketing. For a blogger, SEO professional, or web designer, the prospect of obtaining unlimited websites, hosting, and funnels for life is a tremendous opportunity.
I have been interested in selling digital products for quite some time now, but I had been putting off making the purchase of the required software. So now that I have everything I need, there are no more excuses.
In addition, it comes with lifetime access to GrooveKon, the company's annual epic event. It will be held in Orlando in November and followed by GrooveCruise that will visit Aruba, Bonaire and Grand Turk. We'll be going this year. Hope to see you there.
If I purchase GrooveFunnels, will I also need to purchase other software tools?
The full Groove suite of products provides everything you need to run your online business.
What is the difference between GrooveFunnels and ClickFunnels?
We consider GrooveFunnels to be much more than just an alternative to ClickFunnels.
ClickFunnels is a platform for training and coaching businesses in funnel building and their use. This software has a good landing page builder with some functionality that allows you to sell online courses.
GrooveFunnels, on the other hand, is a complete online marketing platform on which you can fully market and promote your business. GrooveFunnels will perform all of the functions of ClickFunnels much more efficiently, while also providing functionalities ClickFunnels cannot provide.
What is the cost of GrooveFunnels in comparison to ClickFunnels?
Well, since GrooveFunnels offers a 100% free plan it is of course cheaper, plus you get a lot more than you get on ClickFunnels at a much lesser cost if you opt for the paid plan.
For a true comparison of costs, it is necessary to compare the access to all the options available in both platforms. Therefore, we are comparing GrooveFunnels Platinum Plan with ClickFunnels Collective Plan.
GrooveFunnels Platinum Plan will cost you $299 per month ($3588 per year) unless you opt for the one-time lifetime payment (currently $1397). If you choose the ClickFunnels Collective Plan, you will have to pay more than that in just three months.
Therefore, it is clear that GrooveFunnels is much more affordable than ClickFunnels.
How can GrooveFunnels Specifically Benefit You?
Yes, there will be some growing pains in the initial phase of your online business, but GrooveFunnels can help you smooth out the process.
If you have access to a powerful tool such as GrooveFunnels, it means you will spend less time creating your lead generation pages, sales letter, and overall sales funnel in order to begin selling your product. Some people have been able to accomplish this task in less than a few hours, and that's when they start from scratch.
Additionally, GrooveFunnels can be beneficial in the sense that you will not need to hire a team in order to build your sales funnel. Years ago, when sales funnel builders were not available, it cost thousands of dollars to create a sales funnel. Be sure to consider all of the other expenses that you will have to incur, such as hiring a designer, a programmer, and even someone to help you integrate a shopping cart for you to start selling your products.
In GrooveFunnels, you will not have to worry about any of this, which will save you quite a bit of money.
What are GrooveFunnels Key Features (Pros)?
GrooveFunnels is the home to the number one website, sales page, and funnel building platform in the world.

GrooveFunnels is more than just a page builder – it contains all the tools you need to sell online.

GrooveFunnels was created by experts in Internet marketing for Internet marketers and business owners.

For absolute beginners, GrooveFunnels is the right choice.

Personalized support for all your needs.

This program will introduce you to a community of experts, fellow members and aspiring entrepreneurs.

You can access a vast range of valuable resources in an online academy.

Several live webinars and training sessions are scheduled each week.

Earn income with GrooveFunnels

You can use GrooveFunnels for free.
What are GrooveFunnels cons?
Like any sophisticated software platform, GrooveFunnels does have a learning curve. However many users report that this software is less of a learning curve than other competing funnel building software.

It should be noted that GrooveFunnels is still in beta, so you may find an occasional bug, which GrooveFunnels will generally promptly resolve. GrooveFunnels currently has tens of thousands of users. When GrooveFunnels comes out of beta, the free for life option for early adopters will disappear for newer users at that time. It is estimated that the three versions of GrooveFunnels will cost $99, $199 or $299 a month. Joining now ensures that GrooveFunnels will be free for life.
Does GrooveFunnels Have a Money-Back Guarantee?
Of course, GrooveFunnels provides a full thirty-day money-back guarantee.
Why is GrooveFunnels better than its competitors?
Well, Groove is an all-in-one, affordable online marketing platform that does not rely on outdated technologies. GroovePages are built using Google Friendly Mobile First design and hosted on Google's cloud platform for lightning-fast speed. There you have it. That is the long and short of it.