Clickfunnels Review 2022
There are so many marketing tools out there, but very few of them have been aggregated to accomplish everything you need to succeed. Clickfunnels emerged from nowhere, taking the market by storm, just like Apple did with the iPhone. Clickfunnels tries to offer a straightforward approach to making web pages that convert. They offer business-oriented templates that are already beautiful and can be easily altered. They can help you turn visitors into customers.
ClickFunnels is a sales funnel and website building utility designed for entrepreneurs. Yes, ClickFunnels was created so that entrepreneurs, such as yourselves, who are not programmers and who have no prior coding experience, can quickly construct sales funnels that help grow their business online! Once you have figured out your marketing strategy to be able to bring in potential customers and potential clients, then drag and drop is all that is needed, no coding required.
I believe that most people get scared upon hearing about technology, but they do not have to. It is simply the transfer of a sales process that was being done in person to the online market without taking a shotgun approach to the entire market. You take this targeted approach to finding those people who already seem inclined towards you and help them along the way. You can direct them through the steps towards hitting the call to action that you desire.
Clickfunnels is a software program. Clickfunnels was built with the goal in mind of helping entrepreneurs like yourself achieve financial freedom. If you are truly running a serious online business and you want to market a particular product or service or you would like to collect e-mail addresses for marketing purposes, build membership sites, e-commerce sites, opt-in pages, autoresponder sequences, etc. Clickfunnels was the first comprehensive program that allows you not only to build with drag-and-drop but also market effectively the different pages that you would need for your own sales funnel, but to also build the actual sales funnel itself and interlink all the pages and everything else is what makes Clickfunnels unique other than the fact that it allows you to build entire sales funnels.
Now, Clickfunnels is an enterprise-level hosted solution. So, you do not need to download and install anything on your website. It is fully hosted secure and managed so that you can drive as much traffic to your sales funnels, leadpages, and capture pages. Whichever type of funnel you create, it can be added to your WordPress website. You can generate these for any website by exporting them to HTML using a WordPress plugin. You can actually integrate this into your Facebook as well, allowing you to create your own Facebook pages and such. So this is complete, robust assistance.
The good thing about ClickFunnels is that you don't need a lot of additional third-party tools to utilize it, especially with some of the new features and the new systems that are being implemented and there is also the fact that Russell Brunson does this. He is a master of sales funnels and conversions and helping companies move from wherever they are to new levels. In much the same way that I assist businesses as well as do consulting, ok, so he knows what he's talking about. He is not just creating a product, his entire life is that product.
All of Russell Brunson's offers, products, and services use Clickfunnels, as far as I am aware, almost exclusively. It's interesting to see how their business has evolved, as they are using it as a way to demonstrate what Clickfunnels is able to do.
Businesses and entrepreneurs use ClickFunnels to promote and sell their products and services online. Others use it to boost their lead generation campaigns.
ClickFunnels succeeded because it was an all-in-one marketing solution.
Traditional online funnels usually require you to have a separate:
Content management system (e.g. WordPress, Joomla)
Website host (ex. SiteGround, Bluehost, Namecheap, GoDaddy)
Page builder (such as Elementor and Beaver)
An email autoresponder (for example, MailChimp, Aweber, GetResponse)
An Order Form
A shopping cart
Website analytics
Other online marketing tools
ClickFunnels gives you the ability to build marketing and sales funnels from the ground up in a unified dashboard.
Digital marketing expert and entrepreneur Russel Brunson founded ClickFunnels in 2014. Brunson founded this SaaS company on his own in its early stages before securing quite a few investors.
What Is ClickFunnels' Sales Funnel?
A sales funnel is a sequence of steps that guides a customer through the process of acquiring a product or service.
A sales funnel represents the path your customers have taken to become a customer, along with the steps your company has taken to get them there.
In addition to marketing funnels, sales funnels can include purchase/purchasing funnels, revenue funnels, and customer acquisition funnels.
Although it has a number of names, the funnels all have the same stages: the top, middle, and bottom.
What makes ClickFunnels sales funnels different from traditional online sales funnels?
In the traditional online funnel approach, customers are taken through several pages and posts and require them to take many actions before finally reaching the checkout page that matters most. This can be confusing and decreases conversion rates.
Using ClickFunnels, you can build sales funnels that consist of one page, one offer, and one opportunity to take action. The strategy you choose is up to you. Before any business owner, entrepreneur or brand can utilize Clickfunnels, they must have a sales strategy in place. What is your unique lead magnet or hook that will encourage people to move through your funnel and convert? If you don't have a unique selling proposition sales will be tough in any sales funnel.
Clickfunnels requires you to have an initial offer, a final offer (which is where you make money), as well as a number of upsells to offer your visitors in between.
In a nutshell, a sales funnel can be thought of as a focused and targeted marketing strategy to guide consumers to your desired action. Clickfunnels, therefore, aims to enable its users to create marketing campaigns that do just that, with few distractions and clear messages throughout.
How Clickfunnels Work
First and foremost, when you first log into ClickFunnels, whether it be through your 2-week free trial account, or subscription to monthly fee or purchase the annual deal, you will notice first is your main dashboard.
Clickfunnels is very easy to pick up, especially if you are already proficient with programs such as WordPress and if you have been doing so for some time. If you are brand new to any of that, however, it is designed to be both simple to implement and straightforward to use. To be able to create pages and all of that fun stuff is especially useful, but everything runs seamlessly. You have split, testing integrated into the system.
Clickfunnels also offers its own programmatic affiliate management system and there are already some funnel templates, funnel pages, and membership sites that are available. So your affiliates can access their stats and see their results. You can integrate click funnels with Clickbank and other solutions like JVZoo and have click funnels track their statistics as well.
Features of ClickFunnels
ClickFunnels comes with a ton of features. There are literally hundreds of them. Take a look at some of the feature highlights.
1. Sales Funnel Templates
With ClickFunnels, ClickFunnels does the heavy lifting by providing a wide range of marketing and sales funnel templates. Whether you are setting up a sales funnel for a product launch or a membership site, you can access a large array of tested and proven sales funnels.
The funnel templates have been categorized into lead generation funnels, sales funnels, events funnels, and membership funnels. Popular funnel templates include sales letter funnels, product launches, two-step tripwire funnels, invisibile funnels, homepages, squeeze pages, lead magnet funnels, bridge funnels, survey funnels, and more.
All funnel templates come with pre-designed landing page templates, both free and paid, that you can modify to meet your specific needs.
2. Drag and Drop Editing
ClickFunnels allows you to create unique landing pages for your business using its funnel editor.
No coding experience is required. There are approximately 40 free templates available to customize. Even if you construct a website from scratch, ClickFunnels boasts a drag-and-drop editor to make page creation much easier for you.
The drag and drop feature is pretty typical of almost every good landing page builder. You can build a funnel from scratch using their landing page editor.
3. The Share Funnel
Share Funnel is a feature that provides you the opportunity to generate and share a link to your funnel. Why does this even matter?
For some users, joining the ClickFunnels affiliate program means they can earn additional money from selling or promoting a product or service. Others utilize ClickFunnels for the purpose of building and sharing landing pages with clients.
If you wish to follow in their footsteps, Sharing Funnel is one of the best ways when it comes to generating passive income.
4. Clickfunnels A/B Testing
After you create a landing page, you should test many variations of its elements.
ClickFunnels enables you to split test different versions of your funnel to find out which version performs better.
What are the reasons why split testing is important? The short answer is conversion rate optimization. Split testing prevents you from spending advertising dollars or time on a poorly performing landing page. A/B Testing can help you turn more potential customers into clients.
5. Clickfunnels gateways for payments
ClickFunnels enables you to accept payments at the end of your sales funnel without sending your consumers to a third-party website. It integrates with a variety of payment systems such as PayPal, Stripe, Apple Pay, Android Pay, and more, as well as affiliate programs such as ClickBank and JV Zoo.
6. SSL Certificate
Most of the ClickFunnels sites and pages deal with payments and private information. As a result, ClickFunnels has made security a top priority.
ClickFunnels ensures that all the pages and websites built with ClickFunnels are encrypted in order to protect both buyers and sellers from phishing and other malicious attacks.
The simplest way to identify whether a website is safe is by its SSL certificate (URLs starting with HTTPS). All ClickFunnels website and pages are secured using SSL certificates.
7. Automation of e-mail
ClickFunnels has its own autoresponder, but it also supports email services provided by third parties for convenience. Therefore, ClickFunnels is an excellent tool for lead generation and email marketing. It facilitates integration with MailChimp, Zapier, Drip, ConvertKit, Aweber and more.
8. ClickFunnels Tracking
ClickFunnels, of course, includes an analytical tool for tracking the performance of your funnel, including clicks, conversions, opt-ins, and visitors. On your dashboard, you are also able to keep track of the activity of your audience. ClickFunnels allows for the easy tracking of sources and users with the help of other tools.
9. Incorporating multiple domains
ClickFunnels allows you to connect multiple domains and sub-domains. You can use many of the ClickFunnels features to take advantage of multiple domains. If you would like to run a sales offer or host a webinar right from your website, without having to buy any premium plugins or themes, that is possible with ClickFunnels.
10. Backpack Tool and Actionetics
Actionetics and Backpack, two unique features of the ClickFunnels platform, are only available in ClickFunnels' more expensive plan.
Actionetics is a marketing automation software that tracks your lead's progress from the time it enters into the sales funnel. If you have experience in sales and marketing, you understand how crucial it is to know your audience, their behaviors, and their needs are. As a result, Actionetics can help you more effectively market and customise your products to your prospects.
Backpack, on the other hand, helps you create your own affiliate program. Regardless of what kind of product or service you offer, this is quite an efficient way to boost business.
Benefits of ClickFunnels
Whether or not you are a tech-savvy user, ClickFunnels offers a myriad of benefits and perks that you can utilize.
A few of the most popular ClickFunnels benefits are as follows:
Easy to operate
ClickFunnels prioritizes user experience, which is why the interface is so easy to use. It's user-friendly for any skill level.
Integrations with third-party Apps
ClickFunnels might not have all the features you require, but you can certainly integrate other tools in order to make your entire sales funnel work. With ClickFunnels, apps such as email autoresponders, payment gateways, web analytics, etc., can all be easily integrated with just a few clicks most of the time.
There are many integrations available in ClickFunnels:
ActiveCampaign
GoToWebinar
PayPal
Shopify
Stripe
Twilio
Zapier
ZenDirect
Saves you both time and money.
The most effective landing pages require good designs and compelling copy, but they often require too much time, money, and effort. As ClickFunnels comes prebuilt with all the pre-built sales funnels, landing page templates, and integrations you might want as a beginner, you can save time and money.
Setting up funnel pages as well as complete funnel workflows can be accomplished quickly with ClickFunnels. After choosing a sales funnel, you can make use of proven and tested templates.
ClickFunnels: An all-in-one solution?
ClickFunnels claims to be a one-stop shopping solution for your sales and marketing needs. For many people, this may be true. However, when you compare it to Groove.cm you will see many features that Clickfunnels lacks. Clickfunnels may be better for those starting out who do not intend to keep the account for a long time as the ongoing costs do add up substantially.
ClickFunnels is good as it allows you to create an online presence or a landing page while not having to spend hundreds or thousands of dollars on hosting or domain registration.
How Much Is Clickfunnels Per Month?
There are only two pricing tiers for ClickFunnels — The Startup Plan for $97 and Enterprise aka Clickfunnels Platinum for $297 each month. They do offer a 14-day free trial. 
The Startup plan is a good place to start if you are just starting. The Enterprise plan, on the other hand, includes all of the bells and whistles of ClickFunnels, including Actionetics and the Backpack tool. I would only pay that price for sales funnel software if you have a 7-figure online business. If the price has you balking. An alternative is GrooveFunnels whose free plan compares to Clickfunnels's $97 plan.
It is important to understand that an entry-level account and a premium account have significant differences. : The standard package gets the main service, the funnel builder, but is limited to a limit of 100 pages, to 20,000 visits, to 3 custom domains, and there are only some elements of the full suite of features available.
However, both plans share some common features, namely unlimited contacts, and unlimited members, all advanced funnels, A/B split tests and a few other common features.
So enough of that, I wanted to point out also that their support is second only to GrooveFunnels. You are welcome to request new features and to offer suggestions, and they are willing to listen to your suggestions. Based on my own experience, I could tell you that there were some quirks when they were launched. The support staff is responsive to your questions, and they have improved their support as well probably due to increased competition.
Clickfunnels Review: The downside of ClickFunnels
For all of its advantages, ClickFunnels does have a few disadvantages:
Limitations related to pricing
If you start with the basic plan, you must upgrade in order for you to be able to build unlimited funnels. Likewise, if you intend to make use of conversion optimization features such as follow-up funnels you must upgrade to the Platinum plan.
Is Clickfunnels really All in one?
The versatility of ClickFunnels is a double-edged sword. Despite accessing a number of useful features, you may find that none of them are fully utilized. Instead, it will give you limited exposure to the features. This is why they have so many integrations with outside platforms.
Again, it all depends on the type of business you manage. You may also wish to take a look at Groove.cm for a similar but more powerful sales funnel builder solution.
Customization is limited.
If your clients are visual aesthetes, you may find ClickFunnels' customization options lacking.
Again, they are a funnel-building service, not so much a page builder.
You can't expect them to have all the features of other page builders like GroovePages, Elementor or Divi, with almost unlimited customization options.
ClickFunnels puts functionality before beauty. 
You can build simple landing pages and customize them up to a certain point, but that's all.
Lack of support from PayPal for one-click upsells.
PayPal doesn't support one-click upsells if you intend to use them to boost your sales.
Instead, you will need to process the one-click up-sell payments through Stripe. Being able to have support for your Payment gateway is critical.
Membership management
If you want to remind your customers to renew their subscriptions (if you run a service-based business or a membership business), you will not be able to set it up automatically within ClickFunnels.
Hosting Uptime
Finally, your funnel pages and your funnels are hosted by ClickFunnels. That alone can be a huge pro – you do not have to pay for separate website hosting.
Nevertheless, if the server goes down, then your pages will cease to work. If you require 100% uptime, keep this in mind as well.
ClickFunnels Pricing
Clickfunnels costs more than alternative solutions such as GrooveFunnels.It does have a free trial but that really doesn't give you enough time to learn everything or develop a solid marketing sales funnel strategy. For the price of Clickfunnels Platinum which is an ongoing monthly cost, you can still get Groove for a one-time lifetime price.
Summary:
ClickFunnels feels like it is about ten years old. The user interface is rather ugly, and the whole user experience feels clunky in my opinion. I believe ClickFunnels suffers, more than anything else, from massive feature bloat. They have added so much functionality over the years that accessibility has been compromised.
Yes, you can do almost anything with ClickFunnels … But it is not going to be easy. In addition to the (very outdated and incomplete) help pages, expect to spend a lot of time working in the Facebook group and talking with support (which is very good). And for a lot of them to answer, "Oh, that's strange, that should work. I don't know why it doesn't." It all seems patched together and what seems like a simple function becomes increasingly difficult and frustrating.
Alternative to Clickfunnels
Throughout this review, you have seen us mention Groovefunnels a number of times and with good reason. While Clickfunnels is just fine for most people for sales funnel software who need ready-made templates and is a fine online tool, Groovefunnels offers a better and cheaper marketing solution for the vast majority of business owners. It has more features, requires fewer outside apps, and is a disruptive force by being the first builder to incorporate Google's Mobile-First Technology into its platform. You can read a heads up comparison between Groovefunnels vs Cickfunnels here: https://digitalpapercuts.com/2020/09/25/clickfunnels-vs-groovefunnels/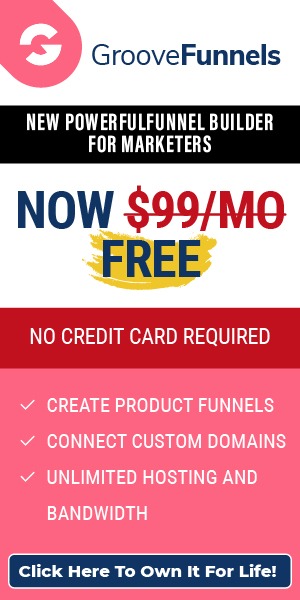 Frequently Asked Questions
What is a Landing Page?
A landing page is a single web page where advertisers send traffic from online advertising campaigns, email marketing campaigns, or social media initiatives. In the simplest terms, a landing page is any page that a new visitor lands on first after they are directed to your site. This can be your home page, an "About us" page, a post on your blog, or any other page potential clients are directed to.
What is Clickfunnels used for?
Clickfunnels is an online tool for designing sales funnels and executing marketing campaigns via email. At its core, Clickfunnels helps companies generate leads and guide them through the buying process through retargeting campaigns to maximize conversion rates and close sales. You may design funnels for your business with unique landing pages or make use of an existing and tried-and-tested template from the Clickfunnels Marketplace.
How can you use Clickfunnels with Shopify?
Shopify can be easily integrated with Clickfunnels to provide all the tracking, lead generation, and marketing needed to gain sales. While Shopify is great for fulfilling orders and managing inventory, it arguably falls short in terms of marketing your e-commerce store and products. This is where Clickfunnels comes into play– you can create one-of-a-kind strategies to generate leads, warm them up, and eventually guide them through a journey to making a purchase all from one user-friendly and seamless interface.
What is Followup Funnels?
Well, it is what I would call a simple auto-responder, but it is a little more complex than that. Followup Funnels focuses on smart analytics that in turn result in a smart autoresponder. However, the autoresponder includes both snail mail and email, as well as a few other goodies. Previously known as Backpack CRM, Followup Funnels serves as an affiliate management tool that makes the process easier and more efficient.
ClickFunnels Pricing: Is it Worth it?
Once you get past the marketing tactics and constant upselling, the platform is relatively easy to use and the examples they provide are very helpful for beginners. However, from a design perspective, the templates could use some work and they should really incorporate Mobile-First Design into their builder.
It is, however, worth the money? Having explored a number of alternatives to ClickFunnels, I can assure you that there are better ways to get your online business off the ground.
Is ClickFunnels Free Trial Good?
ClickFunnels does offer a 14-day free trial, though you will need to give them your credit card information to sign up. Some users have complained that they have been charged after canceling their account.
Do Clickfunnels work?
ClickFunnels is not perfect, but it does a great job of packaging powerful tools into one convenient package. It is almost certain that this feature will save most users the headache they would have if they tried to manage funnels in a different way. Clickfunnels is well worth the investment even with more affordable alternatives if it produces sales for you.