Kartra vs GrooveKart
If you are interested in starting up an e-commerce business as a real business and not a hobby (see Shopify)  then you may have looked at Kartra, but you may not have heard about GrooveKart. In fact, GrooveKart is the new alternative to Kartra's eCommerce platform. In the current Pandemic environment we are in we know that more people are completing their shopping online and most merchants are working hard to earn more online. The type of eCommerce platform you choose to operate your online business on matters a great deal because it will determine the number of conversions you get.
Apart from an eCommerce platform that provides professional e-commerce stores, online merchants require one that can do the job at an affordable price. The number of e-commerce platforms that people use to display their products is always increasing and in this post, we will be comparing the 800-pound gorilla in the room vs the newer more nimble competitor.
Comparing Kartra and GrooveKart is pretty difficult. You see the founders of Groovekart are the founders of Kartra. In brief, Groovekart is like Kartra on steroids.
Kartra eCommerce Guide
Kartra (and GrooveKart) are both completely integrated platforms meaning every part of the software works together for the efficient and smooth running of a eCommerce business.  They were founded by Mike Filsaime the same guy behind WebinarJam.
Kartra eCommerce platform includes everything you need to create an online business, from hosting, email marketing, video, webinars, split-testing, cart checkouts, and a host of other useful tools — each created to integrate seamlessly with one another.  One of Kartra's main advantages is that the platform is designed for both experienced eCommerce store owners as well as newbies too. Newbies will appreciate how easy to use the platform is and will love the pre-made templates and drag and drop interfaces.
Kartra Pros & Cons
Here's the entire list:

Email marketing campaign platform
Marketing automation platform (letting you build and automate your sales funnels)
Marketing page builders (landing pages, squeeze pages, sales pages, thank you pages, product launch pages, checkout pages, video sales letter pages, and more)
Membership portal builders
Shopping carts
Online form builders
Split testing and link tracking software
Calendar and appointment scheduling software
Helpdesk ticketing systems, including live chat
Video hosting (with advanced marketing features)
Affiliate management system
Campaign analytics platform
Custom programming to integrate your various marketing software platforms — Kartra seamlessly integrates all of the above already
Graphic designers — Kartra's professional, stunning templates designed to convert — for pages, emails, forms, and more — take care of that for you
Kartra not only gives you a complete suite of integrated sales and marketing tools that make it easy to build your emails, pages, opt-in forms, checkouts, and sales funnels. Kartra actually gives you complete sales funnels too — pre-built, beautifully designed, and professionally copywritten by renowned internet marketing experts — ready for you to customize and activate in just minutes.
Kartra also gives you a complete set of ready-to-use, stunning design templates for creating new emails, pages, checkouts, opt-in forms, and more. Between Kartra's ease of use and all the done-for-you marketing assets we've included, you can literally launch your entire online business in just a few hours with Kartra.
Kartra offers you different packages to best meet your business needs and your budget. The packages differ primarily by the number of contacts and monthly email sends amount of monthly bandwidth, and the number of marketing assets you can have. Otherwise, all four packages give you complete access to Kartra's amazing assortment of tools, features and benefits. There are no extra-cost "add-ons". With Kartra, you get everything from the start, no matter which package you choose.

Best of all, Kartra's tools are not merely basic versions. Kartra platform is absolutely full-featured, giving you the functionality of the leading platforms in each individual category — plus effortless integration with all of Kartra's other full-featured tools. It's the most complete yet easy-to-use online business solution you'll find anywhere.
The landing pages are a little difficult to link up to sales pages 
The website layout is not always mobile-friendly
Learning the platform is a long, complicated process. They have people lined up that will help "onboard" you and while that's extremely helpful and effective, it isn't as user-friendly as other systems.
Cost-When compared to GrooveKart it is more expensive for what you get. Groovekart has a Freemium version, something Kartra lacks.
Anybody can use Kartra no matter if you are a new or established business. All you require is an idea, something to offer, and you can have an online store in no time at all.
The Kartra system is actually very good for digital marketers.
Kartra redefines the paradigm for running an online business. Marketers can say goodbye to having to research, configure and experiment with a plethora of marketing tools, checkout, and email delivery platforms while paying a separate and often exorbitant fee for each of them.
Kartra vs Groovekart pricing comparison
Kartra Pricing
Kartra offers four plans.
'Starter'– $99 each month.
'Silver'– $199 monthly.
'Gold'– $299 monthly.
'Platinum'– $499 monthly.
GrooveKart Pricing
GrooveKart has 4 pricing plans
Freemium version 2% of sales
Lifetime $1397  *

The prices will go up beginning March 2021 to $1497, then $1997, then $2497 and then the lifetime platinum offer will go away and it will be $299 a month.
GrooveKart Review.
GrooveKart ™ has a lot more powerful standard features than the leading systems at one remarkably low cost. Obviously, you can market your products online but you can also receive analytics intelligence, advanced shipping features, advanced integrated apps, a built-in assistance work desk, completely customizable designs to tailor your look and feel, and world-class support.
GrooveKart is a new e-commerce platform that offers outrageous features at a reasonable price. The first thing that you will realize about the platform is that it does not require the user to download any applications. The features it provides cover everything you would expect an online store to provide. That is unlikely on most e-commerce store platforms, which require the user to download additional applications at an additional price in order to operate effectively. From the social proof to higher converting templates, reviews, and many other features, the platform has everything you need a few clicks away.
Here is Back Door Access for Free! — Get this Software FREE for Life!
https://groovepages.groovesell.com/a/wyFsOyYTGJzz
To set up your free GrooveKart account click here.
GrooveKart comes with many features that require paid apps on other platforms such as urgency timers, inventory management, social proof, reviews, sales funnels, upsells, downsells, bumps, retargeting, analytics, and so much more. Like Shopify, GrooveKart's interface is so simple even newbies love it. GrooveKart does not think that consumers need to be forced to pay additional for Third-party apps that ought to be included in the first place.
One of the main reasons that we favor GrooveKart is its payment system. With it you can accept payment from the worlds leading merchant systems like GroovePay and Authorize.net at much lower rates than you can get on Shopify or Squarespace.. Just obtain a Free PayPal or Red stripe account with their reduced fees. GrooveKart will never ever add additional fees like the competitors.
GrooveKart Pros and Cons
Freemium version for unlimited stores
No costly third-party applications.
No coding needed
Made for mobile and also desktop computers
Fastest loading website of any platform
Shopify import feature
Designed by marketers
Email marketing campaign platform
Marketing page builders (landing pages, squeeze pages, sales pages, thank you pages, product launch pages, checkout pages, video sales letter pages, and more) built on a mobile-first platform
Membership portal builders
Shopping carts
Online form builders
A number of features are coming soon, GrooveCalendar, Groovedesk
Video hosting (with advanced marketing features)
Affiliate management system
Graphic designers — Groovekart has professional, stunning templates designed to convert — for pages, emails, forms, as well as a URL scraper so you can copy any other store on the webs layout as a template.
GrooveKart offers you different packages to best meet your business needs and your budget. The packages differ primarily by the length that you wish to pay. The lifetime offer of $1897 is the best value to set up your online business(es). The freemium version does have some limits as one would expect with a freemium version. Otherwise, all four packages give you complete access to GrooveKart's amazing assortment of tools, features, and benefits. There are no extra-cost "add-ons". With GrooveKart, you get everything from the start, no matter which package you choose.
 
Relatively new platform with many features still in Beta Testing
Blog feature not available yet-estimate Q4 2020
GrooveKart Features
1-Click upsells included which have actually been proven to raise profits by as high as 35% at checkout.
Mobile responsive, Today, most advertising and marketing is seen on mobile devices. So, your checkout pages require it be ready to make sales simple and also compelling.
Fast loading times result in higher conversions
Order bumps. Boost sales by having additional essential order alternatives for your buyers when they click 'Add-to-Cart'.
Countdown Timers and inventory supply as well as the number of individuals viewing the web page developed right into GrooveKart.
Discount coupons as well as Discount rates. You can run a promo by: item, category, tag, or your entire store.
Related products both pre and post-check-out. You see this on Amazon. People who got this additionally purchased this. With Groovekart they have that built in pre and post-check-out for 1-click up-sells included.
Operates on GOOGLE CLOUD PLATFORM so it takes advantage of Google's first-rate facilities and robust set of solutions to develop, operate, and also expand your service in today's competitive setting. Sites built on Squarespace and Shopify may or may not operate at a fast speed.
Groovekart Store Developer
You obtain full control of your home page, navigating, and shades with our completely included shop designer. You can have your very own custom look. Button colors, 800+ Google fonts, Web page attribute products as well as more. It gives you more flexibility to be sure your shop will certainly never ever appear like anyone else's. No other system makes it as simple.
eCommerce stores have many faces. When you are marketing a lot of items with different groups, sizes, and shades, you wish to utilize GrooveKart's routine eCommerce Store. Yet when you are marketing things that require even more direct advertising copy like a Drone or a weight-loss supplement, you wish to make use of a Storeless-Page. This very site was produced with GrooveKart Studio ™ to create eye-catching landing pages.
When you look at Apple.com, every one of their web pages is built as a stand-alone landing page. Only when you click buy are you sent out over to the store. No other eCommerce option uses both Storeless eCommerce, as well as Store eCommerce like GrooveKart, does.
Don't want to build your own custom-looking store. They have thousands of eCommerce templates for your store to choose from.
Low-Cost Integrated Print on Demand Store with Teescape for fast fulfillment. Over 500 pre-made design templates in lots of categories.
20000+ cliparts online from favored supplies such as Pixabay, Openclipart, and social accounts.
95+ LANGUAGES TRANSLATION. Convert languages quickly with powerful API. Support RTL languages with one click to switch on.
They make it easy to make the switch from Shopify. Simply enter your log-in details and afterward chose what products and groups you want in your GrooveKart shop and click add. In just minutes you'll have your shop imported. Plus they guarantee far better sales, conversions, as well as contentment with GrooveKart over Shopify or you can get a refund.
Shopify charges you EVEN MORE for LESS. The typical successful Shopify user is additionally paying thousands of bucks a month for third event APPLICATIONS that come FREE with GrooveKart. With GrooveKart you can pay under $42 a month wherefore might cost you over $500 a month with Shopify.
GrooveKart Summary
GrooveKart is a new eCommerce system that has actually been under development for over 2 years. Designed by marketers, GrooveKart is better, less complicated, and also a lot more inexpensive, with even more features integrated without needing to pay for pricey apps as other platforms. GrooveKart is in our opinion a Shopify Killer. The Freemium version even without the premium features is better than the Shopify platform that charges you the same amount of sales but without any other monthly costs. It should become the best way for new store owners to start out on a limited budget.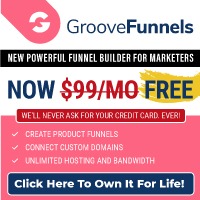 Frequently Asked Questions
Shopify vs Groovekart
What Support as well as Safety And Security Does Squarespace Have?
How Easy Is Shopify to Use?
Shopify is very easy to use! You will not get a website built in minutes, but Shopify manages to combine effective eCommerce tools with an easy-to-use editor. Its interface is clean as well as straightforward, as well as 88% of the users stated they'd advise Shopify to a friend.
Shopify has a clean, clear, and also pretty basic user interface that makes building an online store a breeze, it is very beginner-friendly.
Is Shopify a good value for the money?
It's fairly good for what it delivers, but in order to build a complete marketing solution for your business Shopify loses value because of its reliance on third-party apps, and the transaction charges it imposes on third-party repayment portals.
What is GrooveKart?
GrooveKart is a new eCommerce system that has actually been under development for over 2 years. GrooveKart is less complicated, and also is a lot more inexpensive than other eCommerce platforms, with even more features integrated into criterion without needing to pay for pricey apps.
Does GrooveKart enable several currencies?
GrooveKart offers multiple currencies. Many are continuously being added.
Does Groovekart provide multi-language checkout?
GrooveKart offers several languages for your checkout pages.