GrooveFunnels Price Update – March 2021
Mike Filsaime announced the new Groovefunnels price in his last webinar. What is our understanding of the GrooveFunnels price changes for March 10?  Mike Filsaime in the webinar clarified when the latest GrooveFunnels pricing plans will be, how things will work for current members, and gave a hint how long you can get GrooveFunnels for the one-time price of $1397.
I'll just give a brief overview of what was covered in the webinar due to the fact that there will be no real replay or an encore webinar.
However, I will get to this throughout the blog. So Mike described in this webinar, which was really just a typical sales video, his past as a developer of software tools and how he sold more than $150 million in products, and how he created a lot of million-dollar launches, and stuff like that. During the presentation, Mike spent the majority of his time describing the different GrooveFunnels features. I was not able to write them all down.
After I found out there would be no replay, I began writing down information.  Therefore, I can provide you the information they basically discussed, including why GrooveKart is a great platform. He outlined in detail how to build a brand website with GroovePages, how to set up funnels, then he demonstrated how to create a blog in Groove at GrooveBlog.
And then he talked about the new lifetime pricing. Before I get into that he also covered the benefits you will receive if you take advantage of GrooveSell. This was probably the most important piece of information about what we might expect from GrooveFunnels in the near future.
But, basically, what happened with the pricing is that during the webinar, Mike had several walkthroughs. Basically, right now as I write this, the one-time price is $1397. 
Current Bonus Promotion
They have added a new funnel master class as a bonus to those signing up now, the funnel master class highlights the promotion that they did with Groove Magazine and Fast Start Labs, which took place in January 2021. And these are some of the best sessions produced by Mike and Groove themselves. However, I think that's actually an advantage since there were quite a few things discussed that might actually distract you. 
It is quite similar to Mike's wisdom in regards to what will happen in the online marketing industry, how he views the different apps and the different funnels, such as the difference between a product launch funnel and a membership website, or a book launch funnel.
The Fast Start Marketing Lab covered a lot of topics. But these were only a few and you will get them as a bonus if you sign up for the platinum lifetime program. This is basically what you can expect to get as a bonus during the current promotion. And this is really the most important thing.
I do know that some of the courses are about the 13 different types of funnels they have identified. About Landing Page and Sales Page strategy. Upsells, Downsells, cross-sells, and Hybrid sales, Butterfly Marketing and in maximizing webinars.
GrooveFunnels Price Increase
He announced that the price will increase incrementally to $2,497 which actually is a good sign if you sign up now because it means that they think the software apps are finally getting close to coming out of beta and they are now brave enough to raise the prices. The prices will go up first to $1497, then $1997, then $2497, and then the lifetime platinum offer will go away and it will be $299 a month.
I do not know when they will actually raise the price of GrooveFunnels to $2497 or to just the monthly plan but it will be done over the next 6 months.  They will also be going through this process step by step, just like they do when Groove Webinars launch, or when GrooveMail relaunches, or when the other Groove apps launch, will step by step increase this number to $2,497 by the end of the beta program. 
However, the new platinum lifetime pricing increases are not being released publically. Therefore, I cannot provide you with any insider information. However, we can make a few educated guesses. Because if we look at the current JV promotion, which is currently underway, the webinar was held on the 10th of March, and there will be a call-in webinar on Wednesday, the 17th of March. And the entire bonus promotion will end on March 24. By that time GrooveFunnels will probably no longer be available at the current price point. So if you want to buy GrooveFunnels, this is absolutely the best time to do so.
Moreover, I will explain the reasons here, because they have raised millions of dollars in funding. I believe Mike mentioned this number in the webinar, they have about 53,000 subscribers and I did a rough calculation which means that they generated $74 million of revenue, of course, they have to pay a substantial amount to affiliates.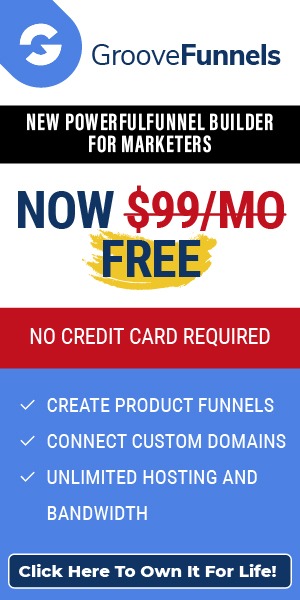 It is important to note that this is not their only source of revenue; they also leverage digital presentations and JV webinars to generate additional revenue. Therefore, they possess a large amount of capital. And they use this mainly to pay the 75 developers that are currently working on the different apps. Mike Filsaime is really the brains behind all of this.
Whether you have seen some of his presentations or how he does things, it really seems as if he has a vision.  I believe a lot of people underestimate what he is in fact building here. One of them, for example, is just the marketplace. He is actually developing a whole ecosystem around GrooveFunnels.
It's not just the landing page software or GrooveSell, it's a whole combination that when used together will create a huge marketing network for you to use. He mentioned such things as supplying software to Multi-Level Marketing companies, something which had not been done before. And whether you like multi-level marketing or not, they do represent new revenue streams for them as they venture into new industries. who competitors like Clickfunnels do not have access to. The third reason is that it is still the lowest price made available.
GroovePages allows you to build beautiful pages. Until now I have used this for demonstration purposes only and to create one-page landing pages. But I'm currently preparing for my own product launch, a software called ContentNinja. Not to get too far off-topic but Content Ninja will be software where you will be able to create blog content by transcribing YouTube videos that you can repurpose as your own content. I already have integrated the Butterfly Marketing aspect of GrooveFunnels, which I would have had to do manually with WordPress.
Anyway, back to the main subject. Groovefunnels will definitely be a game-changer. If you want to stay informed about GrooveFunnel's latest price changes I highly recommend that you visit my blog from time to time. This is the place where I try to document everything I know. I've just updated this blog post, but I'll continue to update it in order for you to receive the latest information regarding the price increase updates until it is announced.
Even more importantly, GrooveFunnels is finally ready to be utilized by large businesses vs. just a couple of months ago when it wasn't. They were great for small businesses and individuals but for large businesses they just weren't ready. That is what being in beta is all about I guess. By April 15th they should be reintroducing GrooveMail. They had to pull back on it because some users were using it to send out spam.
But besides that, Groovevideo is now working and GrooveSell which is often overlooked is really probably the biggest reason during the presentation Mike gave, it was really about all the small features that he implemented into GrooveSell. And yes, as someone who has used other platforms, I can say that Groove has a lot of flexibility built into this new system, it's truly amazing. Simply upgrade to GrooveFunnels Platinium for lifetime access to these software tools. And you'll save a great deal in the long run.
He followed the same launch strategy with WebinarJam, back in 2013. And if we look at how WebinarJam developed over the years, you will notice that currently, users are paying almost one thousand dollars per year just to use WebinarJam. This doesn't even include EverWebinar. All of this and much more will be included with GrooveFunnels.
The Groove Webinars Automated will be released first, then the Groove Live version. And if you had seen this webinar, it is quite clear why Mike Filsaime is still one of the most expert webinar experts in the world. He gave a very convincing argument to upgrade to GrooveFunnels now. And this is what I would like to recommend. Of course, if you're still happy with your current platform, you are free to continue using it, just be aware that you are about to be left in the dust.
And this is something I strongly recommend for people who currently use systems like Kartra or ClickFunnels. Even so, even with ClickFunnels, I have just seen a video from Alex Becker, who is developing tracking software. He has been a strong advocate of ClickFunnels. And he describes in his videos why so many people leave ClickFunnels, because the competition is actually 30-40% better than ClickFunnels. And this is something that I believe is absolutely true for GrooveFunnels. He left ClickFunnels in order to build a page using HTML Wizard, basically the same technology that GroovePages uses.
So my recommendation would be to join GrooveFunnels at this time, as the price will increase to $2,497 in a rather short time. And as I said before, GrooveFunnels did not say when they will raise their prices as I outlined in this blog. I anticipate they will increase the price at the end of March, perhaps in incremental steps.
We will then see how fast they are able to fulfill all of their development promises and how fast the developments are going. In any case, I expect to see an increase in prices on an ongoing basis from now on just to create scarcity and push you to take action now. I believe it's a great investment and that's why I'm spending so much time building my reviews, creating sales pages on GroovePages and I have a lot more comparisons coming up on my blog.
I fully endorse GrooveFunnels. I said that I am preparing to move everything over to GrooveFunnels because I feel that the software is ready not only for demonstration purposes but actually to run a real business and this is what I'm aiming to do with my new software program, which I call Content Ninja.
Once GrooveMail is back, I will switch everything over to GrooveFunnels. So again, if you are interested in learning more about GrooveFunnels, please feel free to read my extended reviews which highlight all the features.
Yesterday, I had a discussion with a Kartra power user who was dissatisfied with the limitations, and that Kartra did not innovate too much in the last year's mentioning that there was no survey feature and other features that they have promised for years. So he made the upgrade using my affiliate link just because of this. There are many people leaving ClickFunnels and leaving Kartra right now and switching their business over to Groove.
It will only take a couple of more months before you start seeing really really big launches from people like Frank Kern or Bob Proctor or any of GrooveFunnels Premium users. And it won't be long before you start seeing really big launches from big-time marketers who are not endorsed by GrooveFunnels themselves or doing any joint venture with GrooveFunnels. I believe this is just a matter of months away.
We will see GrooveFunnels dominate the marketplace. So let me know your thoughts about GrooveFunnels in the comments. I hope you found this blog useful. And yes, please let me know if you wish to acquire GrooveFunnels before the price increases. I hope you have a fantastic day and stay safe and if you want to stay updated with GrooveFunnels make sure to check out the other blog posts that I publish on my site.
Groovefunnels 2021 Review: https://digitalpapercuts.com/complete-groovefunnels-review-2022/