Coronavirus Social-Distancing Forces Painful Choices on Businesses
The news has rightly been dominated by discussion and speculation about the coronavirus or COVID-19.  The coronavirus crisis is forcing businesses to reevaluate many aspects of their financial and marketing plans for the foreseeable future.
As a retail business, who have customers visit your store or if you have a service business where you enter a person's home or business it is especially important to be mindful of concerns customers may have.
Setting up a notification on your website is a simple way to communicate your sanitation efforts. Best of all, these notifications can be setup within minutes with a simple WordPress plugin. For detailed instructions on how to set up a Coronavirus notification go to: Digitalpapercuts.com/cookie-notice/
Your "Learn More" Page
Here are some images of emails and social media posts my team has recently seen involving small businesses and the coronavirus. What I like about all these messages is that they convey a sense of personality that's appropriate to each business.
Tastefully Promoting Your Product or Service
Promoting your services in "troubling times" can be extremely distasteful and your business can appear tone-deaf if you do this incorrectly.
One email I've recently received from Verizon, I believe, hits the right note of concern while highlighting a product they offer. Here is a screenshot of that message: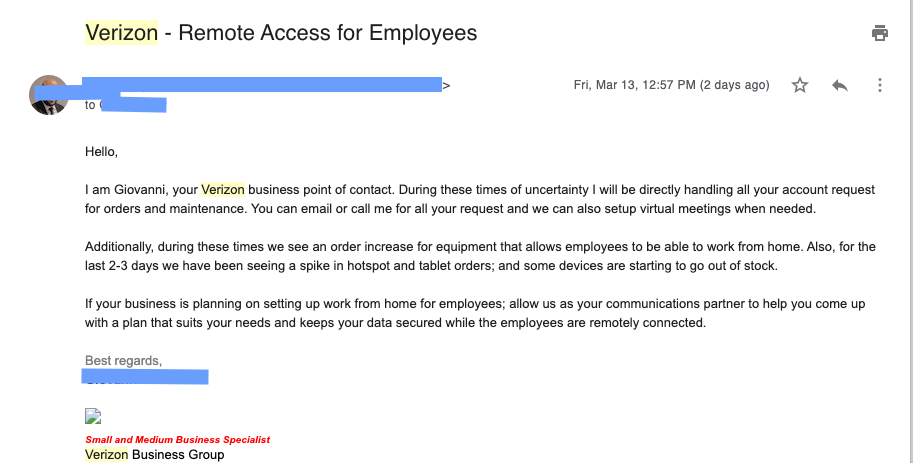 Moving forward with your existing business or in starting a business in these troubled times
One of the byproducts of the Coronavirus pandemic is that a lot more people are working remote, there are also a number of people already losing their jobs because of layoffs such as business suspensions of those that  that work at stadiums and other hospitality jobs. The fact that fewer people are going out except when absolutely necessary will eventually increase the number of unemployed individuals. If you are one of those people and are looking at starting an online business or if your brick and mortar business is struggling to cope with the loss of traffic and you want to prevent not going out to businesses what are some of your options?
What I see as the short term impact is a huge increase in e-commerce businesses specifically. We're already starting to see it across major marketplaces like Amazon and Ebay as people avoid going out to local stores (that may have bare shelves). The increase for daily goods goes beyond the need for toilet paper and cleaning supplies but for all goods and services: such as grocery delivery.  Local business that rely on foot traffic should consider home delivery as an option in order to stay in business. Store clerks, waiters-waitesses can remain employed by becoming delivery drivers until things return to the new normal is just one option.
Many people worldwide have increased their e-commerce spending as local store visitation has declined. According to data from Quantam Metric, traditional retailers with online stores ("brick and click") have seen meaningful increases in online shopping revenues (52% weekly growth). And online conversions are 9% higher than they were a year ago.
As far as the long-term impact, we're already starting to see how this is affecting the economy from a stock market perspective. Businesses will need to have very honest discussions about the likelihood of hitting goals and the value of their investments. It might be a time to dial things back and do some spring cleaning. Additionally, brands should also start thinking about how they can leverage their marketing to address issues caused by COVID-19, such as store closures. Having a great customer service and a user friendly e-commerce experience is imperative during times like this.
For those who are unfortunate and lose their job, starting an online business is a solid option for many. Unfortunately for many without experience I fear many will fall victim to scams who talk about get rich quick schemes. But for those who don't fall into online schemes and do decide to start up a real online business there are a number of things that they can do.
No matter if you are an existing business or are just getting started by starting your own business, in particularly if your business is operating in the B2C space you need have a solid digital marketing plan in place. The core components of this are having a user friendly website design that focuses on details like customer service, product marketing and Search Engine Optimization (SEO) along with advertising and promotion focusing on pay-per-click advertising for immediate results.
Digital marketing can be time consuming simply because some forms of online marketing are tedious and contain a significant learning curve. Luckily there are already numerous companies like Digital Papercuts that offer these services for your existing or new business venture.
You don't have to have a marketing magician to be successful, but you do need a willingness to work at finding ways to succeed. This is a hallmark of the entrepreneurial spirit. If you have it you will likely find success, if you don't, you need to find it fast. This is indispensable when you own a company, when you manage a company and when you seek to market that company.
It really isn't a matter of if you think it makes sense or not. In an rapidly changing world if you don't find some way to let others know you exist you will not stay in business very long.
The key components of an digital marketing program include Search Engine Optimization (SEO), Search Engine Marketing (SEM), Paid Placement (PPC Ads), Affiliate Marketing and Social Marketing. The goal of all of these is to increase a website's traffic (number of people who visit) however each uses a different tactic to meet this goal. An effective digital marketing program leverages a mix of these components to maximize their value at a particular point in the overall program.
Search Engine Marketing
I'll start with discussing Search Engine Marketing (SEM), SEM essentially is a shortcut to increased search result rankings. By sponsoring links in search engine results, businesses can ensure that relevant links are displayed along with organic search results whenever certain keywords are searched for. These are generally displayed above or in a separate column beside organic results. In these pay per click (PPC) programs advertisers bid to determine ranking and only pay when links are actually clicked by a visitor. This is probably the best thing a new business or an existing business can do in order to help get through the current crisis we are in.
At Digital Papercuts we are increasing our SEM programs for our clients. Our focus had been primarily on SEO (which is still important for long term success) and probably is still best from a cost standpoint but because it takes time to develop. A good pay-per-click program is probably better for the short term needs of a business. SEM has the shortest term ROI as resulting traffic is immediate and measurable. The ability to tightly control expenses, all the way down to cost per click, makes the expenses very predictable. Negatively, there is little if any residual value effect of SEM beyond potential relationships with new buyers. SEM is predominately a point in time exercise, although it can be very effective during a campaign.
Paid Placement
Paid placement is somewhat similar to PPC advertising, but it is also similar to traditional print or media advertising. Businesses pay a fee to have their ad displayed on a website or alongside search engine results. Ads are usually banner ads that include a marketing message that entices viewers to click the ad and be transferred to the advertiser's website. Paid placement also includes sponsored links on content pages, paid reviews or pop-up ads that appear before or on top of a content page. I don't advise using pop-up ads as more and more people use pop-up blockers that will prevent your ad from being shown.
Paid placement can include SEM tactics, but here the sponsored links appear on content websites rather than search engine results pages. Placement is based on relevancy of selected keywords and the displaying websites content. The business has limited control over where ads appear. Ads on content sites generally rank higher for lower bids than on search engine results but have lower conversion.
Direct placement of ads on specific content sites is generally based on a set fee or per million impressions (displays). Direct placement allows an advertiser to specify specific website, durations and potentially exact placement on a page. This is most effective if a product or service would appeal to visitors of a specific website. For instance, Apple might place an ad on a telephone service providers website.
Search Engine Optimization (SEO)
Search Engine Optimization (SEO) is an attempt to increase your website's ranking in organic (non-paid) search results in Google, Yahoo, Siri, Alexa and other search engines. The search engines use complex proprietary algorithms to determine how a page ranks. In general higher ranking is achieved by optimizing the actual website content to increase its relevancy to certain search words (keywords). Additionally, SEO attempts to increase the website's perceived authority by acquiring quality backlinks to your website from other complementary sites. Finally higher ranking websites are highly visible to search engines meaning most or all of their web pages are indexed by the search engines. This is a long term strategy but one that you should continue doing even though there are other marketing actions that you can implement now to help get through the crisis.
SEO generally has a longer-term ROI than other marketing methods because a website's authority is generally built over time. It is important to know that SEO is never truly finished. Competition and buyer preferences change and evolve over time, therefore, the authority of a website changes and must be re-evaluated routinely. One example would be to change your targeted keywords from say "Best (product/service) in (Location)" to "Best (product/service) in (Location) with free delivery".
The effectiveness of a SEO program is measured in terms of search result rank, search engine saturation and overall visibility. Result rank is determined by how high a website appears in organic results. Saturation is an indication of how much of a website is indexed by search engines and overall visibility shows how many references are found for a website.
Affiliate Marketing
Affiliate Marketing allows website owners to resell products or services for a percentage or set fee commission. Commissions may be paid for sales, leads or even website visit referrals. Almost all major retail stores support affiliate marketing programs and generally use a third party service to manage the relationship with affiliates. While affiliate marketing allows a product or service provider to extend its marketing capability it is still responsible for all aspects of distribution.
With the current crisis going on, affiliate marketing can be looked at in two ways-one from the business owners perspective and one from those needing to make a living. By offering an Affiliate Program businesses can greatly expand their sales force in order to keep up with sales or even grow their business. For people just out of work becoming an affiliate is something that can be done really fast-without even having to build a website (although that is the general way of doing it). Amazon, Walmart, Best Buy and many other companies offer affiliate marketing programs. Commissions range from 1% up to about 10%.
This is an extremely low cost way of starting a business. It must be pointed out though that to really make a living wage at it will require a lot of work…and marketing. It can be done however.
Although not an absolute, Affiliate marketing tends to be most utilized by product or service providers who have a wide range of products to offer like Amazon. This doesn't mean that you as a business owner or someone looking for work can't think outside the box and make it work for you. For instance, say you own a bagel shop. What is to stop you from selling bagel boxes with cream cheese to affiliates and pay them a small percentage for getting you the sale for either pick up or delivery? This is another way to get some fast results or income generated for you.
Social Marketing
Social Marketing is similar to traditional word of mouth advertising although done through websites. Marketers attempt create a buzz about their products or services by leveraging social networks, emails, blogs, videos or other venues that allow viewers to easily spread the word. This form of Internet marketing is often associated with the term Web 2.0 because it tends to leverage more user driven venues and content rather than commercial content sites.
Social Internet marketing, much like SEO is an ongoing effort and similarly it is possible to outsource all or some efforts in this area.  It is something that takes time to build your following.
Summary
In closing, an effective digital marketing program will leverage some or all of these components in a complementary way. Each component brings visitors to a website through its own unique tactics, time-frame and cost. If planned and managed properly, each component can be utilized by the next one to create even greater value. A successful digital marketing plan will consider the short-term, long-term and budgetary goals of the product or service provider, deploying the components that met those goals.
While the virus is something to be concerned and careful about, arguably the larger problem right now is the fear and uncertainty it's causing. A withdrawal from daily activity may be justified for public health reasons but behavior changes are also being dictated by fear and confusion.
We will all suffer and probably have already suffered because of the virus and after more than a couple months of this, and the prospect of diminished consumer and business spending, we will all have to consider our individual situations, but there are also opportunities to be seized that can lessen the pain. Decisive action and clarity of vision will make the difference between thriving and merely surviving the challenge of the pandemic.
Digital Papercuts
Digital Marketing Agency
5904 Warner Ave
Ste- A-2011
Huntington Beach, CA 92649
Phone (800) 451-7085